Whole Person care planning - Ami O'Grady, VP of Ibis member services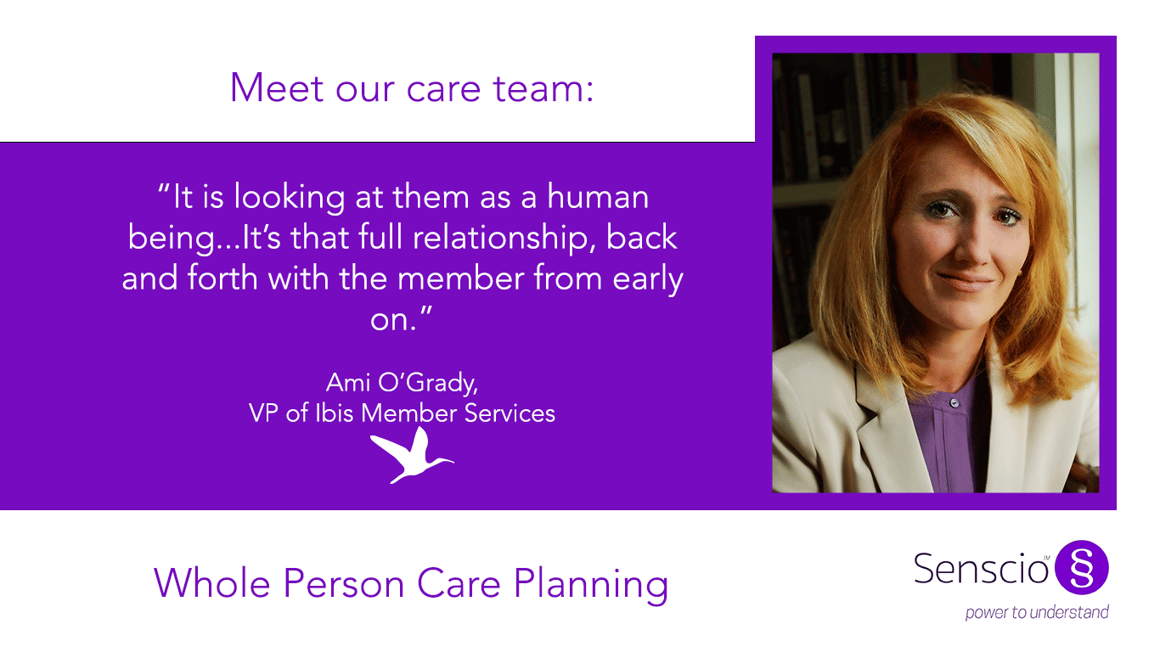 Living well looks different for each individual, but everyone needs good food, sleep, exercise, mindfulness and a sense of connection to thrive. Recent medical studies show that by addressing all our health needs — including social, emotional and community needs — we can feel our best with chronic conditions and avoid unnecessary hospitalizations.
But taking that whole person approach can often seem an insurmountable task in a health care system where physicians continue to be in short supply and the average time spent with a patient during an office visit is a mere 13-16 minutes.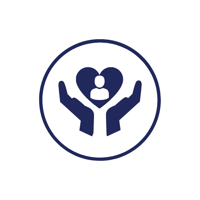 Ami O'Grady has spent more than two decades as a registered nurse working in health care, leading teams of providers across a variety of settings, from inpatient rehab hospitals to home health companies. Nearly all that time she has cared for older patients, including those with multiple chronic conditions, many of whom require more frequent check-ins, better coordination and a greater level of ongoing care.
She's seen firsthand how the system is broken.
"I just never felt like there was enough time or ability to really provide that individualized support to patients. I couldn't help my team to meet their own goals of what they wanted to do," O'Grady said. "It became a very frustrating space to work in."
Ibis Health offers a different approach, O'Grady said, utilizing technology to fill gaps in care for thousands of Medicare-eligible adults so they can flourish between visits to their doctor.
Ibis Health, an innovative chronic care management program from Senscio Systems, combines AI-powered round-the-clock virtual monitoring with clinical team support to empower its members to live well on their terms. Ibis Health members receive a continuously connected tablet known as the IbisHub that helps to track weight, medications, diet, exercise and other health indicators, flagging risk for decline before it happens. Member advocates work one-on-one to customize the program, providing friendly encouragement and coaching.
As Vice President of Ibis Health Services, O'Grady leads the Ibis Health care team and oversees efforts to deliver whole health support to the program's members. This begins with getting to know new members, finding out what matters most, and then partnering with them to develop personalized care plans that prioritize their health concerns and goals.
What is whole person care planning, and how is the Ibis Health approach different from what one might find in other health care settings?

"Care planning is a pretty generic term that can mean a lot of things to a lot of people in the health care world. As a nurse, no matter what setting you work in, there has to be a care plan of some kind. That's fine and great, you can create care plans, you can put them into place, but they are usually cookie cutter, and you are just doing it for compliance sake. …They may also be limited to a specific condition. Going to a PCP, while they are focused on your health and wellness, they are more often approaching problems and fixing them. Same for a specialist — a cardiologist is really just focusing on your heart. Senscio's approach to the whole person encompasses everything about them: Who is in their life to support them? The whole person, their mental health, their physical health, how they get around, do they have transportation? It's knowing the whole picture of their health and what goes into their lives."

How do you start to build this full picture of a member?

"It really begins as they enroll in the program. We request their three most recent PCP visit notes. Then we have the member's self-reported chronic conditions: They say, 'Oh, I have high blood pressure and I take something for cholesterol.' Then the PCP notes come in, and we might see 'Oh, there's arthritis,' we add those in there. During intake, we go through those conditions and determine what's an active chronic condition, or did they just have asthma after having a cold. We also go over their medications. It's a nice relationship and dance in that initial provider visit, fine-tuning what is really at the forefront of this individual's health care needs. What do they want? What matters to them? We discuss one or two goals to begin with, but instead of from the top down, this is 'What are you going to work on?'"

What types of goals might the care plan include?

"For a new member, there's almost always a goal in place to engage with the program. Because embracing Ibis as a service that's valuable to them takes developing a new habit and sticking to it. It's the gym on January 2 versus the gym on March 31. So we try to develop that routine, that they answer our phone calls, they engage with the tablet. Typically that is an initial goal. And a lot of goals do focus on physical activity or physical exercise, because that has such an impact on so many chronic conditions. It is customized to the individual…if they don't have the ability to go outside and walk because they have a walker, it might be a specific goal to go with the senior center bus and do a mall walk once a week. Or do two 10-minute walks inside your house four times a week. It moves the needle, particularly for [high] blood pressure and diabetes, and it helps with pain, with the stiffness of arthritis."

What else makes an Ibis Health whole person care plan unique?

"It is looking at them as a human being. It's knowing that their beloved cat Fluffy is why they get up every day. Sometimes you call somebody and they're pretty grumpy, but as soon as you ask them about Fluffy or that beloved pet, you've turned the whole conversation around. Having that kind of information in a care plan, it really does make a difference probably in every interaction you have with the member. … It's that full relationship, back and forth with the member from early on."
To learn more about Senscio Systems and its innovative Ibis Health Program visit www.sensciosystems.com and www.ibishealth.org.
Want to receive more insightful articles like this? Sign-up for our free monthly e-newsletter: