Senscio supporting partners AgingME for the third year
Supporting the 4Ms for healthy aging - with Maine's Geriatrics Workforce Enhancement Program
Senscio partnered with AgingME , Maine's Geriatrics Workforce Enhancement Program in 2020. One of 48 federally funded GWEP programs nationwide. AgingME aims to create a more age-friendly health system by better preparing an age-capable workforce, transforming primary care practices and engaging and empowering older adults. The initial collaboration utilized Senscio's Ibis
™

chronic disease management platform to assess the impact that performing pleasurable activities can have on a subclinical depressive episode.

Entering the third year of the program, Senscio continues to support the 4Ms framework for age friendly health systems.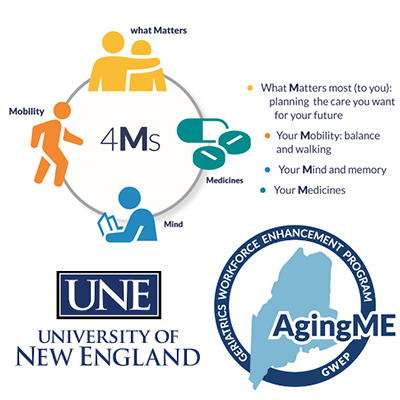 "So the great thing about Ibis and being age-friendly and what matters most is from the get-go saying, 'You know what's good for your health. What's really important to you?' Some people who are overweight say, you know, I actually don't want to change my diet habits that much, I just don't. But I do want X. And you say, OK, well, as a matter of fact, you can keep your weight, but you've got to build up your cardio. Let's forget weight loss for the moment, but let's talk about cardio and your endurance. ... That's how Ibis supports the individual, and I think this is the way Ibis helps actually transform the system, by continuing to promote those values of autonomy, those values of what matters most to the older adult, and then to make the practitioner's job, frankly, a little easier by giving them data that's actionable."
This project is supported by the Health Resources and Services Administration (HRSA) of the U.S. Department of Health and Human Services (HHS) as part of an award totaling $749,891.00. The contents are those of the author(s) and do not necessarily represent the official views of, nor an endorsement, by HRSA, HHS, or the U.S. Government. For more information, please visit HRSA.gov.
Learn more at www.sensciosystems.com and www.ibishealth.org.
With thanks to the University of New England AgingME AgingME: Geriatrics Workforce Enhancement Program (GWEP)
---
Other projects in collaboration with the University of New England:
Center on Aging partners on a new grant to address nutritional needs in older adults with multiple chronic conditions, September 19, 2019
https://mainecenteronaging.umaine.edu/2019/09/19/center-on-aging-partners-on-a-new-grant-to-address-nutritional-needs-in-older-adults-with-multiple-chronic-conditions/
UNE physician assistant students continue learning through telemedicine, Jun 18, 2020
https://www.wmtw.com/article/une-physician-assistant-students-continue-learning-through-telemedicine/32909416 https://www.une.edu/news/2020/physician-assistant-students-featured-wmtw-after-completing-unique-telemedicine-rotation
Contact us