Senscio launches Clinical Innovation Council to focus on whole health
Bringing together experts across the fields of medicine and technology, the Clinical Innovation Council is building algorithms to manage chronic disease
It's no secret good health care is becoming harder to find for many Americans.

With ever-expanding wait lists for medical providers, long lines in emergency departments and a looming shortage of physicians that is expected to only grow over the next decade, the need for quality care already outpaces what the U.S. health care system can deliver in many places. Throw in an aging population, and it's no wonder experts from the American Medical Association to the U.S. Surgeon General are all sounding the alarm that something must be done — and fast — to avert disaster. The situation is especially dire for the roughly 85 percent of older Americans who suffer from chronic disease, including 60 percent with two or more conditions, according to a 2019 study by the National Institutes of Health. Accounting for 90 percent of the $4.1 trillion spent on health care each year, according to the U.S. Centers for Disease Control and Prevention, these patients require more frequent check-ins, better coordination, and a greater level of ongoing care to balance their complex mix of symptoms.

But what if you could gather the expertise of multiple specialists for the benefit of individuals in the comfort of their own homes, while also alleviating the burden on the health care system?

That is what Senscio Systems aims to do with its recently formed Clinical Innovation Council. Bringing together experienced professionals in clinical decision-making and artificial intelligence technology, the CIC is exploring and developing innovative approaches to chronic disease management centered on the needs of patients, empowering individuals to take control of their whole health and live life on their own terms.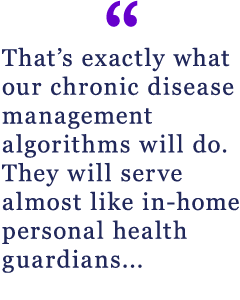 Senscio Systems' Ibis Health program is already working to fill gaps in care for thousands from across New England. Combining AI-powered round-the-clock virtual care with clinical team support, Ibis Health engages patients in dynamic daily planning, tracking weight, medications, blood pressure, diet and other health indicators to flag risks for decline before it happens. By developing partnerships with primary care practices to coordinate care between doctor's visits, the program serves as a lifeline for its members, who benefit from a personalized approach that adapts to their specific needs.
Now the CIC is looking to take the support that Ibis Health provides and raise it to the next level, developing preventive and self-recovery algorithms to be incorporated by clinicians in individual patient care plans for a range of chronic conditions, including congestive heart failure, chronic kidney disease, chronic obstructive pulmonary disease, asthma, hypertension, diabetes and depression and anxiety. Future clinical areas might include long Covid, substance abuse, Alzheimer's disease, chronic pain and cholesterol/cardiac risk.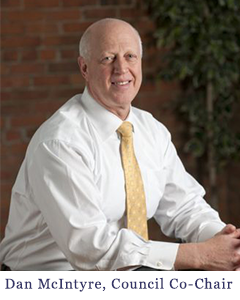 "With health care resources becoming even more scarce and more costly, we must learn from all of our medical disciplines and computer scientists the most effective ways of keeping our chronic disease patients safe, developing their confidence and nurturing their independence,"
Dan McIntyre, co-chair of the CIC and former senior vice president for Hartford Healthcare and head of Charlotte Hungerford Hospital based in Torrington, Conn.
"That's exactly what our chronic disease management algorithms will do. They will serve almost like in-home personal health guardians, constantly watching over our patients and providing them with a connection to a vast reservoir of medical knowledge and to our Senscio support team."
Gaps in the health care system demand a new approach
The United States already has fewer practicing physicians per capita than Canada, Israel and nearly all its European counterparts. And by 2034, the Association of American Medical Colleges predicts the demand for doctors in the U.S. will exceed supply by as many as 124,000 full-time equivalent physicians, including a shortfall of up to 48,000 primary care physicians.

At the same time, as Baby Boomers (the "gray tsunami") continue to reach retirement, the number of people ages 65 and older is expected to increase by roughly 45 percent over the next 20 years, from 55.7 million in 2020 to nearly 81 million in 2040, according to the U.S. Department of Health and Human Services' Administration for Community Living.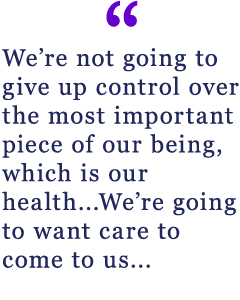 "The obvious answer is that we've got to figure out how to get us, those of us with chronic conditions, to do more for ourselves," said Piali De, Senscio Systems' co-founder and CEO. "But do-it-yourself in health care is not so simple, which is why no one's ever gone there."
Unlike watching a YouTube video on how to fix a leaky pipe, which relies on standardized parts and procedures, health care must be personalized to each patient's individual needs. But De believes Baby Boomers especially are ready for a different solution, one that is accessible and allows them to maintain control over where and how they age.
"We're a roll-up-the-sleeves-and-do-it, we're a take-charge generation," De said. "We're not going to give up control over the most important piece of our being, which is our health. … We're going to want care to come to us, wherever we are in the world, whatever we're going to do."
Creating a solution for complex patients that is personalized to their needs
The CIC is taking an approach to chronic disease management that centers on individuals' whole health, paying careful attention to all of their conditions and how they interact with each other. This type of holistic focus is common in cancer treatment, where oncologists often serve as project managers for their patients, coordinating with surgeons, palliative care doctors and other specialists to guide them through their course of treatment. But it is increasingly rare in other specialties as health care has become less hospital-focused and more ambulatory-based, said Dr. Richard Goldstein, CIC co-chair, current chief medical officer for the Northeast Medical Group and senior vice president at Yale New Haven Health System.
Gone are the days when doctors would come in in the morning, make rounds in the hospital and then stop in the lounge to eat and chat with each other about what might be best for a patient and how to coordinate care.
"That is completely 100 percent gone. The economics of it now is that if an outpatient physician is not seeing patients constantly every minute of every day, then money is lost," said Dr. Neil Duval, a member of the CIC and board-certified pulmonologist. "So there is absolutely no time for physicians to connect. It's done through the electronic record, which health care systems like to tell themselves is sufficient. So I might write a note, and in my note, I'll say I really need to get the cardiologist's input on this, and I'll send that note to the cardiologist and hope he reads it, hope he responds … but then I'm on to the next patient."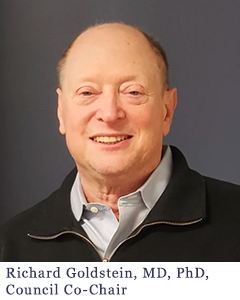 And if a patient's information lives in multiple EMRs across various health care centers or specialists, communication between medical providers becomes even more inefficient and complicated, Duval and Goldstein said. "It's become very siloed," Goldstein said. "I think we just have a very uncoordinated delivery system out there."
The CIC hopes to change that by bringing together clinical providers from various specialties to figure out how to best care for patients with multiple chronic conditions, so that treatment for one condition doesn't tip the balance for another disease. The Council includes representation from cardiology, internal medicine, nephrology, pulmonology, psychiatry and geriatrics. Collectively these specialists will advance a care model that determines how to prioritize different treatment pathways with the goal of keeping seniors healthy and living independently for as long as they are able. The result of that expertise will then be implemented through Senscio's AI-based platform in Ibis Health.
"We've been providing expert knowledge into the home in a siloed fashion [through Ibis Health]," De said. "We are now starting to create the tunnels between those silos."
First the CIC's clinical specialists will work one-on-one with Senscio's technical team to determine how to build research-based and thoughtful preventive and self-recovery algorithms for each of the chronic conditions they oversee. Duval, for example, is currently engaged in developing algorithms for chronic obstructive pulmonary disease, commonly known as COPD.
How preventive and self-recovery algorithms can help patients with COPD
There is nothing worse than not being able to breathe. Duval knows this firsthand.
As a pulmonologist with Central Maine Healthcare, Duval spent decades treating patients struggling with COPD, an umbrella term for conditions that cause airflow blockage, including emphysema and chronic bronchitis.The sixth leading cause of death in the U.S. in 2020, more than 16 million Americans suffer from COPD, and millions more go undiagnosed each year, according to the CDC. COPD is chronic, progressive and incurable — once diagnosed, it will never go away.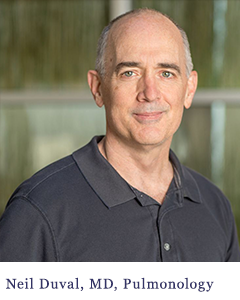 The key to living, and living well, with COPD is preventing exacerbations — episodes of rapidly worsening symptoms that can last for days or even weeks and result in permanent lung damage. In 2019 alone, more than 1.3 million ER visits nationwide were due to COPD exacerbations, according to the American Lung Association.
"If it gets worse, there's no coming back from it. If someone has bad lung function … anything they lose is going to debilitate them," Duval said. "[But] more recent research shows that you can identify people who are about to exacerbate preclinically before they know it's going to happen. So if you can identify those things, intervene before the exacerbation, then you've prevented the exacerbation, and you have, by definition, improved this person's quality of life."
As a member of Senscio's CIC, Duval is working with Senscio's programmers to develop algorithms that aim to do just that. Twice a day, COPD patients using Ibis Health's proprietary AI-powered platform are prompted through a dedicated connected tablet to track their oxygen and airflow levels using a pulse oximeter and home spirometer. They also answer questions such as "How do you feel today?" and "Is your breathing worse today than it was yesterday?"
The resulting data is used by clinicians to determine whether users might be at risk for an exacerbation and to suggest steps for self-management and recovery, such as utilizing a nebulizer or turning up their oxygen, all according to the plan prescribed by their medical provider. If necessary, Senscio's Ibis system will alert the program's on-call clinical team to check in, or prompt patients to call their doctor or go to the emergency room.

"The patient stays healthy and the provider gets fewer calls because the AI will deal with most of these problems without the provider even needing to be alerted," Duval said, adding that the algorithms will help cut down on hospital admissions and keep people out of the ER unnecessarily. Indeed, Ibis Health users suffering from COPD have reported a 37 percent decline in hospitalizations.
"When you have 100 people and they are all getting ill, in the absence of any home monitoring, now you have 100 calls to 100 providers. With home monitoring, you take those 100 people getting ill, and apply these [algorithms], and maybe now 40 or 50 of them have managed the problem by themselves," Duval said, explaining that the Ibis platform delivers his clinical orders. "[And] people always do better if they feel like they're in charge of their own disease."
Creating an adaptive expert system that allows seniors to enjoy life on their terms
Once algorithms are built for each disease, the next challenge is to bring them all together and determine how they should interact with each other.

The goal, De said, is to give Senscio's AI-based platform the ability to leverage the combined clinical expertise of the CIC's members, so it can teach Ibis Health users how to take better care of themselves in the comfort of their own homes. If written correctly and updated as needed, these algorithms could also be an excellent predictor of when a chronic disease patient is heading into trouble, allowing medical providers to intervene before a situation becomes critical, McIntyre said.
"It's on the order of a unicorn," Duval said. "What [Senscio] is doing is quite unique. I think the true power of the Ibis [program] is going to be just that, when all of those algorithms are connected and when AI is really at a point where anything one practitioner does or anything that one algorithm does that impacts a different practitioner or algorithm, it will automatically take care of that. If I put someone on prednisone for their breathing, that's going to make their blood sugars go up, then that should kick over to the diabetes algorithms," while always keeping the clinical team on alert.

This is where the CIC's real work begins, Council members said — and it will require curiosity, patience, respect for the whole body and a willingness to engage in the art of what might be possible.

"You have to have a group of people that recognize that we can have a better health care system," Goldstein said. "I have worked with a couple of these people before, and they are brilliant and they know their field, and I think everybody is united around keeping people as healthy as they can be. As long as that remains the focus and we put the patient first, I think we'll be successful."

"I am completely of the opinion that this, if we can invest the effort into it, this could fundamentally change health care," Duval said. "I truly believe that, and I want to be part of that. I want to have my name on that plaque 200 years from now."
A Look at Senscio Systems' Clinical Innovation Council
Bringing brilliant minds and disciplines together to advance care for aging Americans
Meet the Senscio CIC Council members:
Piali De, PhD, CEO and co-founder of Senscio Systems

Also co-inventor of Senscio's patented Scio framework, the artificially intelligent inference engine that contextualizes data in any domain into actionable intelligence, upon which the Ibis Health program is built. A recognized thought leader in digital health innovation, De is a frequent and eloquent speaker and guest lecturer at digital health summits and health care conferences, including HFMA, HIMSS, The MIT Enterprise Forum of Cambridge, Medical Development Group, MedSpeaks and Health Innovators. Prior to Senscio, De, a Brown University-trained physicist, was an engineering fellow at Raytheon's Integrated Defense Systems, where she developed a system called Confluence, designed to deliver knowledge-based decision support for public safety missions, pandemic crisis, natural disaster responses, military missions and situations that require multiple organizations to analyze data simultaneously and respond in immediate unison. She is the author of many publications, three patents and one pending patent.
Dan McIntyre, Council Co-Chair

Former Senior Vice President and President, Northwest Region, for Hartford HealthCare and President of Charlotte Hungerford Hospital based in Torrington, Conn. McIntyre has also served as Associate Administrator for Yale-New Haven Hospital and Executive Vice President for Johnson Memorial Hospital.

Over the course of his tenure in hospital administration, he led six Strategic Plan Development and Implementation cycles resulting in sustained improvements in Quality and Patient Safety, Financial Performance, Employee and Medical Staff Relations, Service Line Growth and Cultural Development. A civil engineer by training, McIntyre also brings engineering and marketing management experience in high-tech markets, including aerospace, machine tool and electro-mechanical control system industries. McIntyre has been studying and applying artificial intelligence to patient care for over 20 years, including a collaboration with IBM while at Charlotte Hungerford Hospital.
Richard Goldstein, MD, PhD, Council Co-Chair

Current Chief Medical Officer for the Northeast Medical Group and Senior Vice President of Yale New Haven Health System.

Prior to that, Goldstein served as President of Central Maine Medical Group and President of the Medical Staff of Central Maine Medical Center, the flagship hospital of Central Maine Healthcare with 250 inpatient beds and a broad and robust range of services including a Level II trauma center, neurosurgery, cardiovascular medicine, vascular and cardiac surgery, a bariatric center of excellence, medical and radiation oncology. Goldstein is a former Vice Dean of Clinical Affairs and Professor of Surgery at the University of Louisville and Associate Professor of Surgery at Vanderbilt University.
Hugh Stoddart, PhD, Chief Scientist R&D and co-founder of Senscio Systems (In Memoriam)

Co-inventor of Senscio's patented Scio framework, Stoddart authored 12 papers on the electronic and optical properties of amorphous semiconductors and held four patents in the field of medical instrumentation. His areas of expertise included instrumentation, physical optics, optical engineering, electronics, data analysis, statistics, modeling of complex physical systems, programming, application development, control theory, optimization theory, neural networks, pattern recognition and image processing.
Keiron Stoddart, MS, Chief Technology Officer for Senscio Systems

A data scientist with a passion for social entrepreneurship, Stoddart leverages Scio and Warbler to learn the habits, identify the care gaps, and predict the adverse health events of Ibis users.
Ami O'Grady, RN, CGCP, VP of Ibis Health Services for Senscio Systems

With two decades of experience in the health care industry in settings ranging from inpatient to community care, O'Grady works behind the scenes to review and analyze remote physiological monitoring (RPM) data for the Ibis Health Program, promoting the Aging in Place model and utilizing her strong clinical skills to ensure the health of Ibis members remains well-managed. She is a proud recipient of the 2019 100 Top Healthcare Leaders Award.
Carrie Wolfberg, MD, Non-Invasive Cardiologist with Hartford Healthcare Medical Group.

Board-certified in internal medicine and cardiovascular medicine, Wolfberg serves as current Cardiology Section Chief for Hartford Healthcare Medical Group and former Medical Staff President for Charlotte Hungerford Hospital in Torrington, CT.
Karthik Ravindran, MD, ABIM, Internist, Chronic Care Specialist and Medical Director for Senscio Systems

A former lead for population health data and analytics at the Tufts Medical Center practice in Framingham and for the Metrowest Healthcare Alliance, Ravindran spearheaded telehealth initiatives during the COVID pandemic and served as Clinical Lead for the Tufts Medicine Integrated Network, helping to identify and address clinical and population health needs. He continues to practice as an adult internal medicine primary care provider with Carbon Health, and has served on the Massachusetts Health and Hospital Association's Clinician Burnout committee.
William Handelman, MD, Nephrologist and Internal Medicine based in Torrington, CT

William served as Chairman of Medicine and Medical Staff President at Charlotte Hungerford Hospital, as well as Waterbury and St. Mary's Hospitals in Waterbury, Conn.

A fellow of the American College of Physicians and named one of Connecticut's top docs by Connecticut Magazine, Handelman has held faculty appointments at the University of Colorado, University of Connecticut School of Medicine, Quinnipiac University and St. Joseph's College. He serves on the executive committee of the Connecticut State Medical Society IPA, and is chairman of the Quality Committee. He received his medical degree from Downstate Medical Center-SUNY and completed his internal medicine residency at Bronx Municipal Medical Center, followed by training in nephrology at the University of Colorado Medical Center.
Neil Duval, MD, Board-certified Pulmonologist and Founding President of the Maine SCVPR

With a passionate interest in COPD, Duval has served as Medical Director for the Pulmonary Rehab programs at Central Maine Medical Center and Rumford Hospital and for the Pulmonary Function Labs at CMMC, Rumford and Bridgton hospitals. He is an Alpha 1 antitrypsin deficiency specialist for the state of Maine, and most recently, he served as Medical Director for the Maine Society for Respiratory Care for nearly three decades.

A veteran of the U.S. Navy, Duval practiced in naval hospitals in Portsmouth, Va. and Newport, RI before transitioning to Central Maine Medical Center, where he has continued to practice pulmonary and critical care medicine for the past 30 years.
Gouri Datta, MD, Psychiatrist and Addiction Specialist Burlington, MA

Datta currently sees patients at Beth Israel-Lahey Hospital Medical Center, where she is a Staff Psychiatrist, and serves as Consulting Psychiatrist for the Tewksbury Hospital Department of Public Health. Over the course of her 40-year career in medicine, Datta has practiced in a number of settings both public and private, including Seven Hills Behavioral Health and Addictions Treatment & Methadone Services in New Bedford, where she served as Medical Director.
Claus Hamann MD, MS, FRCPC, FACP, Internist-Geriatrician, former Medical Director and Senior Advisor for Senscio Systems

Hamann's career has spanned clinical practice and teaching in academic medical centers, medical informatics and population health leadership. As a geriatrician, he values Senscio's embrace of the health complexities of older individuals through AI in combination with medical advocacy tailored to individual members. He believes the Senscio and Ibis Health approach is key to optimal function of older adults, especially ones with frailty.
Joe Campione, Council member and current President of JMC Healthcare Management Consultants

For more than three decades, Campione has brought expertise in policy setting, project management, budget control, process improvement and program and business development to a variety of health care settings providing support for mental health, addiction and substance use disorders. He was Co-Founder and Practice Manager for the Center for Psychiatric Medicine, PC, in Lawrence, Mass, where he continued as Regional Director after the practice's acquisition by Column Health in 2020. Most recently, Campione served as Site Manager for Mass General Brigham Community Physicians' Bridge Clinic, which was recognized in 2022 with a MGB Team Pillar of Excellence Award.
Erik Johnson, Data Scientist for Senscio Systems

Beginning with the company in its early stages as a college intern during summers home from Rensselaer Polytechnic Institute, Johnson joined Senscio full-time in 2016 after completing a degree in Applied Physics with a concentration in Astrophysics. He specializes in the server-side programming of the company's databases, APIs and algorithms, as well as creating customized reports in response to requests from the broader team. A Massachusetts native, Johnson moved to rural Maine in 2021, where he constructed an environmentally sustainable house with a keen focus on his carbon footprint, maximizing his use of renewable local resources and minimizing his use of high carbon emission products such as cement and heavy machinery.