The Future of Age-Friendly Health Care : Enabling Older Americans to Take Charge of their Health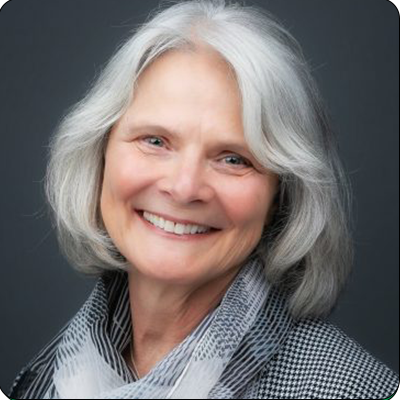 "Being age-friendly also means finding out what matters most to the older adult. What are their health care goals? So much of primary care is spent on population health-determined decisions about what matters..."
Susan Wehry, MD. Director of AgingME, Maine's Geriatric Workforce Enhancement Program (GWEP) University of New England.
When Susan Wehry changed her focus from pediatrics to geriatrics in medical school, her advisers questioned why she would squander such a promising career on old people.
"I had zero support from my mentors. The world of medicine was directed towards cures, and some of the ailments of later life are not curable," Wehry recalls. "It was perceived as a kind of waste of time, talent and effort to be so interested in older adults."
Wehry has spent the past four decades working to change people's minds. A geriatric psychiatrist by training, she is former commissioner of the Vermont Department of Disabilities, Aging and Independent Living, and current director of AgingME, a federally funded Geriatrics Workforce Enhancement Project based at the University of New England in Biddeford, Maine. Wehry also serves as an associate clinical professor in the College of Osteopathic Medicine at UNE and is a nationally recognized thought leader, keynote speaker and workshop facilitator on topics encompassing social isolation, depression, dementia, COVID-19 and healthy aging.
This May, in celebration of Older Americans Month, AgingME is working to engage senior Mainers in considering their well-being through the lens of the 4 Ms: What Matters Most (planning the care you want for your own future); Mobility (balance and walking); Mind and Memory; and Medicines.
We sat down with Wehry to discuss the challenges facing many older Americans as they age, and why she believes Senscio Systems' Ibis Health, a first-of-its-kind virtual chronic care management program, can help empower individuals to take control of their health and live life on their own terms.
The following conversation has been edited for clarity and length.
Your partnership with Senscio Systems began in 2020 for a project on sub-clinical depression in your role as the program director for AgingME. What first attracted you to the Ibis Health program?
"Throughout my career I have been invested in protecting and enhancing the autonomy of people who have been marginalized by society. That includes old people, that includes people with mental illness, and includes people with intellectual disabilities. … One of the issues for these marginalized populations has been in not owning their health information and not being seen as equal partners.
"Luckily, back in the '80s, I had superb training on the notion that patients and doctors should be partners in care. It's funny because this is now treated as a new idea. … My approach is basically to say, 'I have a certain kind of expert knowledge about what might ail you and what might help, you have expert knowledge on you. Putting that together, we can come up with the right treatment plan.' That has just been a guiding force for me clinically. What I have seen, however, evolve in the health care system is something that is less relational and more transactional. I think there is a misuse of population health data, which kind of homogenizes health care and creates a checkbox mentality.
​"When I first heard Piali De, [CEO and cofounder of Senscio Systems] speak about Ibis, I thought 'Oh my gosh! This is information intended to empower the older adult.' This is information that actually says, 'You're in charge of your health care. You may use the expertise of various providers of health care, but you actually are in the driver's seat.' Moreover, it creates this algorithm-driven information about you. We can take the best of AI to say 'Here's what you need to know to make the next decision about your health care."

You include older adults among those who sometimes exist on the margins of our society. What do you mean by that?
"I think most of us interested in older adults are struck by the pervasiveness of ageism, directed toward older adults. Quite frankly, I think we are ageist toward all ages. There is a way in which Millennials are dissed and dismissed by older adults; there is a way in which my parents' generation dissed and dismissed Baby Boomers. We are a very youth-oriented culture, because of the extent to which we measure value in life by productivity, to the extent that people are in the workforce, that they are innovators, that they are sort of moving capital and products. This has a particular impact on older adults. I'm in my 70s, and what I notice among my age peers is how people resist the idea and the word "retirement" passionately. … There is this incredible defensiveness, like once you retire in this country, then you're out to pasture. … I think we older adults can be our own worst enemy, because we share this kind of prejudice against our own future."
How does this pervasive ageism affect how we deliver health care to older adults?
"Until about 10-15 years ago, older adults were never included in any medical studies. … It's really only in recent decades that we've actually been interested in how older adults might be different and how we might need to change interventions. … Care that might be appropriate for a 50-year-old is not appropriate for a 90-year-old. Unless practitioners are age-friendly, unless they are thinking about those differences, they may do more harm."
What does it mean to be age-friendly, and what does an age-friendly health care system look like?
"One, it's accessible to people of all ages, and that means that office hours have to match up with people who are working, people who are not working, people who have childcare needs, people who don't have childcare needs; two, there needs to be enough time in an age-friendly system, or the visit. This may be particularly true for older adults, who may process information more slowly due to some of the normal, cognitive changes associated with age. By the way, psychologists tell us you can measure some decline by about age 40, but certainly by age 80, you're not as quick as you used to be. And you know it. So simply allowing more time for appointments, for example, rather than fitting everybody into their 15-minute block, would be age-friendly.

"Being age-friendly also means finding out what matters most to the older adult. What are their health care goals? So much of primary care is spent on population health-determined decisions about what matters, so [for example] to the physician or nurse practitioner, what matters most is keeping your blood pressure within a certain level. So you get focused on a number, you get focused on a disease category. But what matters most to the older adult may be living long enough to see their favorite grandchild get married, or their favorite child have the baby, or maybe being healthy enough to walk a certain distance, to be able to be in the outdoors. That framing of health care and health decision-making is so much more effective.

"And being age-friendly means remembering that not all old people are frail. You probably remember taking kids in for their wellness checks, right, their healthy baby visits? And you get immunizations at certain ages. But basically you go to well-baby checks to hear, 'Yeah, you're hitting all of your developmental markers.' Well, being age-friendly means that you recognize that for older adults, there is also a developmental arc. We know, for example, that from about age 70, people lose a significant amount of muscle mass, even healthy people. If you know that, and you know that your older adult patient likes to have an active lifestyle, likes to play pickle ball, likes to hike, likes to do whatever they like to do, that you're going to need to pay attention to that. And not just saying you're at risk for a fall or that you should take a Fosamax or something for your osteoporosis, but saying, 'You know you are at risk for a fall, and there are evidence-based balance and strength-training exercise [classes], and here's the one in your neighborhood, and here's how you sign up for it.' This is similar to the way family doctors might give advice to young parents or new parents of young children. … That's what age-friendly really means across the lifespan, it is helping people avoid the risks and augment their health."

How does a program like Ibis Health support this idea of an age-friendly health care system?
"I think it's the early detection where Ibis can really help. ... [For example] as a physician, I think that we should be very humble about when many patients with congestive heart failure finally get into the office. The person in the waiting room can make the diagnosis, right? The patient is already short of breath. Their ankles are swelling out to here. It doesn't take an expert. It's the same way with high blood pressure or other chronic diseases. One beauty of the Ibis system is you can make a much earlier intervention. If patients are weighing themselves every day, or taking their blood pressure, before they are even symptomatic, after you've got two weeks of baseline data, you can predict the likelihood of tipping into congestive heart failure.
"I think the other thing that I've emphasized is that an age-friendly system is one that promotes health as well as detects disease. Everybody knows we shouldn't smoke, drink alcohol only in moderation, get plenty of exercise, eat fruits and vegetables, right? I think almost any person could give the litany. But that's very different from actually doing it or finding it relevant to your life. "So the great thing about Ibis and being age-friendly and what matters most is from the get-go saying, 'You know what's good for your health. What's really important to you?' Some people who are overweight say, you know, I actually don't want to change my diet habits that much, I just don't. But I do want X. And you say, OK, well, as a matter of fact, you can keep your weight, but you've got to build up your cardio. Let's forget weight loss for the moment, but let's talk about cardio and your endurance. ... That's how Ibis supports the individual, and I think this is the way Ibis helps actually transform the system, by continuing to promote those values of autonomy, those values of what matters most to the older adult, and then to make the practitioner's job, frankly, a little easier by giving them data that's actionable."
Susan contributed to the recent article on octogenarian health by the New York Times; 'Biden Would End His Second Term at 86. What Could That Mean for His Brain and Body?' nytimes.com/2023/04/25/well/live/biden-president-age-health-2024
To learn more about the 4 Ms framework and AgingME's work to promote an age-friendly approach to health care, please visit https://sites.une.edu/gwep/. To learn more about Senscio Systems and its innovative Ibis Health Program visit sensciosystems.com and www.ibishealth.org.
Want to receive more insightful articles like this? Sign-up for our free monthly e-newsletter: