Q&A with Jim Roosevelt Jr. on innovation in health care
The Ibis Health Program helps retirees regain control over their well-being while reducing costs
With spending on the rise and a growing desire for more personalized care, health plans are tasked with balancing a set of often-competing priorities: Determining what is good for patients medically; what is cost effective; and what produces the highest rate of satisfaction among its members.
Jim Roosevelt believes Senscio Systems' Ibis Health, an easy-to-use virtual chronic care management program that puts patients in the driver's seat of their own well-being and bridges the care gap between doctor visits, is perfectly positioned to help payers accomplish all three.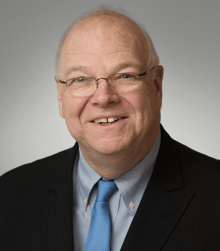 As CEO of Tufts Health Plan for more than a decade, Roosevelt led a turnaround that nearly doubled the plan's membership and achieved consistent profitability while attaining a No. 1 ranking in the United States from the national accrediting organization. In 2016, he transitioned to the Harvard Kennedy School of Government, where he was a visiting fellow in the Institute of Politics. A lawyer by training, Roosevelt was previously in-house General Counsel and a former partner in the Health Care Practice Group of Choate, Hall and Stewart in Boston. He also served as associate commissioner of the U.S. Social Security Administration, helping to carry out the vision his grandfather, U.S. President Franklin Delano Roosevelt, had of providing Americans with basic financial security upon retirement or disability.
Roosevelt continues as a clinical instructor in the Public Health and Community Medicine Department of Tufts University School of Medicine and as Counsel at Verrill Dana LLP, where he advises health care payers, providers and trade associations. He currently serves as chairman of the board for Senscio Systems.
How did you get involved with Senscio Systems? What was attractive to you about Senscio's model through its Ibis Health Program?
"I've known some of the principals of Senscio for a number of years, and they have a strong background in providing access to health care, particularly in managed care, but also through use of technology. What attracts me is the opportunity for patients to have more immediate and meaningful answers to their questions, more guidance about how to get care, and the opportunity to reduce their trips to the emergency room."
That last one can be a big driver in reducing health care costs. Why is it important to keep patients out of the emergency room?
"Obviously anybody who needs to go to the emergency room should go there. If you don't need to go there, but it's the only way you think you can get attention to an immediate health problem, the Ibis Health Program is a better way. We all now know that the emergency room is a place where viruses circulate, so it's a good place not to go if you don't have to. We also know that being in an emergency room involves usually more waiting than treatment, and avoiding that is obviously of great value to the patient. And emergency rooms are expensive by nature, they have to be because of their 24/7 capability to handle anything. If there is something that can be handled by a consultation with a physician or other health care professional, that is more efficient and therefore much less costly."
A study of COPD patients utilizing Ibis Health saw a 37 percent reduction in hospital inpatient admissions. What is unique about Senscio's model that allows it to be successful at keeping patients out of the hospital?
"What is unusual about Senscio is really, I believe, the immediate access that it gives to patients. It gives the patient the opportunity to be in touch with health care professionals, to have their symptoms immediately available not just to providers, but to an artificial intelligence system that can analyze their situation in accordance with the care plan established by their doctors and not guess, but say, based on that care plan here's what you should do, here's where you should go, and most probably you can stay right where you are, but do the following things to make sure that you don't get into trouble or get out of the trouble you are in."
Senscio recently announced a partnership with UniCare to offer its Ibis Health Program to retirees as a benefit through UniCare's Medicare supplemental insurance plans. Why should payers, such as UniCare, consider working with Senscio?
"Well, Senscio is a very adaptable and easily accessible system for use by a health plan, particularly those that involve supplemental insurance and traditional Medicare. It's not a managed care plan, where you have to go to their doctors, and you have to stay with their network. It is access to information and treatment advice, but it is very flexible for the patient and for the health plan. When you look at traditional Medicare, where the government pays 80 percent and the patient pays 20 percent, and then the patient's portion may be covered by supplemental insurance, there is a direct impact on both the health plan's expense and the individual's expense if the treatment can be more effective, more efficient and in a less expensive setting. That's really the value of Senscio: It cuts through the barriers to accessing health care, and it does so at a much lower cost than an emergency room visit or even an urgent care visit [by] giving patients the ability to access information and advice on care right away. … When UniCare doesn't have to pay that 20 percent for an emergency room visit or hospital admission, it also means Medicare doesn't have to pay the 80 percent. Both Medicare and the supplemental plan benefit, but more importantly the patient benefits by getting the care where they need it and when they need it. And lowering expenses in health care benefits everybody, because not only does it perhaps mean lower premiums or lower taxes, it means more resources available for the people who need them."
Beyond reducing health care costs, what else is attractive about the Senscio model for payers like UniCare?
"Many health plans have tried to develop relationships with Accountable Care Organizations (ACOs), and I'm a fan of a whole variety of managed care approaches, because different things are suitable for different people. Some people like to put themselves in the hands of a managed care organization and be told you have to get your care within this big health care system, you have to use our doctors, you have to use our referrals to our specialists, maybe even have to use our pharmacy. Many people prefer to have more flexibility and control of their own choices. Senscio provides that and it's something health plans can offer and get many of the benefits of the coordination of care that ACOs provide — which is a very good thing to supplemental insurance or even standard commercial insurance providers — without the member having to give up control over the choices of where they get their care."
This all sounds like a fantastic solution for patients, for health plans, for everyone in the process. What do you think are the biggest barriers right now to adopting Senscio's innovative model?
"I actually think adopting Senscio's Ibis Health Program is almost a no-brainer. It is so flexible and so attractive that it simply requires thinking just one step out of the box. That is very hard to happen in health care. People in health care, for some good reasons, want to do things that they are familiar with and have seen work in the past. Well, that's not how we make progress. We make progress by saying here's something that has been tested and works, I'm going to jump over to that. … Senscio's Ibis Health program, with its proprietary AI technology, has gone through evolution and testing and experience. And it is available to health plans of all sizes and resources."
To learn more about Senscio Systems and its innovative Ibis Health Program visit www.sensciosystems.com and www.ibishealth.org.
Want to receive more insightful articles like this? Sign-up for our free monthly e-newsletter: