Partner Practice Profile: Galbraith Family Medicine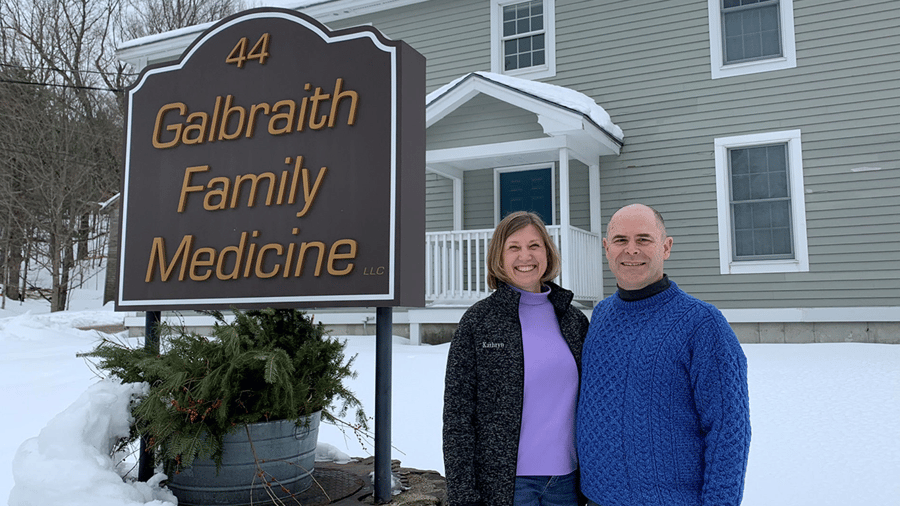 "This is a great partnership to be able to...improve your bottom line and your quality of care," said Kathryn Galbraith
How a small family practice expanded their care with Ibis Health
From value-based health care initiatives to quality metrics, primary care physicians are being asked to do increasingly more to ensure the overall health and well-being of their patients, while also reducing the burden on the health care system as a whole.
One example is the Centers for Medicare & Medicaid's recent Chronic Care Management (CCM) initiative, which expands the reimbursement opportunities for physicians who provide virtual care to their sickest patients in between doctor visits. But these opportunities can feel out of reach for small, private practices running on already limited margins.
Drs. David and Kathryn Galbraith are physicians and owners of Galbraith Family Medicine, LLC in Limerick, Maine, a rural community of roughly 3,000 residents in the rolling hills of western York County, near the New Hampshire border.
For nearly 13 years, the Galbraiths have served a diverse community of patients, from lifelong Mainers to vacationers from Massachusetts, Florida and other states who own second homes in the area. They often find themselves caring for multiple generations of the same family, treating individuals alongside their children, grandchildren, even great-grandchildren. Roughly 40 percent of their patients are on Medicare.
Owning a small, private practice has allowed David and Kathryn to deliver the type of personalized care they always dreamed of while in medical school, tailoring their treatment to the individual needs and desires of their patients. It has brought flexibility, affording them the ability to debate practice policies and decisions over the dinner table instead of running them up the long chain of administrative bureaucracy that often comes with a larger practice or hospital system.
There have also been challenges as the Galbraiths have had to learn how to run a business, navigating tax requirements, hiring rules and OSHA demands — none of which is taught in medical school — while making sure they keep the practice financially afloat.
When they first heard about CMS' new CCM initiative, they saw it as a way to finally be reimbursed for work they were already doing: prescription refills, authorizations and referrals, updating medical charts and checking in on patients. But with limited time and resources, they did not know how they could possibly satisfy the bevy of requirements to access it.
"As a small practice, we don't have a staff person dedicated to being able to come up with and document the care plans. We did not have a great way to track the time," Kathryn Galbraith said. "As a small practice, we have to keep our eye on the money side of things and maximizing revenue. … It was always a nice little idea, but not something we knew we'd be able to realistically do."
Until, that is, the Galbraiths learned about Senscio Systems' Ibis Health program while attending last year's annual meeting of the Maine Medical Association.
A virtual chronic care management program designed to empower individuals to take better care of themselves at home, Ibis Health's proprietary AI-powered platform provides just-in-time personalized support to manage health concerns and flag risks for health decline. With round-the-clock monitoring and monthly one-to-one calls, Ibis Health works with a patient's existing care team, allowing physicians to direct the focus of a member's care plan. Ibis users, often older adults battling chronic conditions such as COPD, diabetes, and heart failure, have reported 37 percent fewer hospital admissions.
Partnering with Ibis Health has allowed the Galbraiths to offer chronic care management to a community that would otherwise have little or no access to it.
With Ibis Health's support, the Galbraiths have begun tracking the minutes they spend on various tasks such as updating charts and ordering prescription refills. "It's shocking how much time we have been spending on this stuff, and now we can actually get paid for it," said Kathryn Galbraith. "That's huge as a small practice."
The program also gives them the chance to better prevent health problems in their patients by allowing them to see what is happening between office visits, David Galbraith said. For example, maybe a patient is adding on extra weight or fluid, which could be an early sign of congestive heart failure.
"If we can call [that patient] ahead of time, before he has symptoms, that saves a lot of time and the patient does better," David Galbraith said. "That structure the tracking system lays over top of the care we are already delivering gives those opportunities to predict things and check in before they become a problem that is bad enough for these Mainers who would put up with things for longer than is useful for them."
With Ibis Health, the Galbraiths can continue to operate with the flexibility and autonomy they originally sought when they went into private practice, while building upon the care they provide to their patients.
"Bringing in Ibis has really allowed us to not compromise on doing things our way," said David Galbraith. "Ibis brings the expertise to translate that into CMS' language, into Medicare's language, to take what we're doing and show how that's exceeding what CMS is asking for, so that they see that we are keeping patients at home living the life they want to live, which is costing the health care system and Medicare specifically a lot less because they are continuing to stay away from the big city and the hospitals that live there."
"This is a great partnership to be able to get at that very useful thing that CMS is willing to pay for and improve your bottom line and your quality of care," said Kathryn Galbraith.
To learn more about Senscio Systems and its innovative Ibis Health Program visit www.sensciosystems.com and www.ibishealth.org.
Want to receive more insightful articles like this? Sign-up for our free monthly e-newsletter: